• Before starting treatment, remove any jewelry from the target areas to avoid risk of electrical burns, redness or irritation.
• Thoroughly clean skin before starting a treatment. Remove any creams, deodorants, antiperspirants and cosmetics from the target areas.
Watch a video of the setup here:
1. Separate the case into two trays and place the trays on a flat, firm surface (e.g. table for hands, floor for feet) in order to avoid water spillage.
Place both trays side by side on a low table if you intend to treat hands. Place both trays side by side on the floor if you intend to treat feet.

2. Place a hand and foot electrode into each tray.
3. Cover each electrode with a towel.
Note: The case can be reassembled by reversing the steps when device is ready to be stored.

4. Connect a cable to each electrode while plugging the other cable end into the connectors on the back panel of the controller.
The device is designed to automatically alternate the current's polarity during treatment without the need to manually reverse the cables. No difference is made between plugging the right or left electrode into the right or left connector on the back panel of the controller.
Note: Make sure cables are fully plugged into the electrodes to prevent unstable connections. This may cause current fluctuations and minor electric shocks during treatment.
5. Carefully fill both treatment trays with enough tap water, up to a maximum of 500 ml (17 fl. oz.) per tray.
Ensure that the entire skin surface intended for treatment is in contact with water. Use water between room temperature and warm (20-40 °C / 70-105 °F) according to user comfort.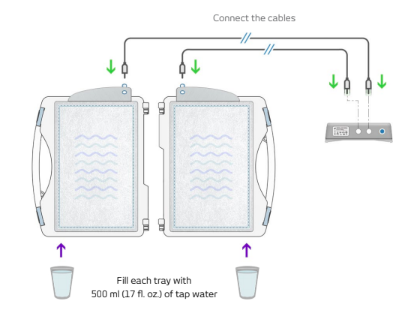 Click here to see the steps for Performing the Treatment